The Great Depression that hit the United States in the late 1920s to early 30s was one of the gruesome times for the country. The crash of the stock market brought untold suffering due to massive job losses and the high cost of living. This was most unfortunate for newly trained university graduates who fresh out of college were greeted with a depressed job market and the only subterfuge was to go to the Midlands or the south to work on a farm.
Malcolm Gladwell, the ace writer seems to differ a bit. He opines that the respectability or the high standard of public education post the great depression gained from the availability of quality graduates that flooded the public schools as academic staff. He recounts that lawyers and bankers who could not find employment settled for teaching in primary and high schools to eke a living. Hither then seldom had the schools benefited from a pool of very young, highly trained and well-read teaching staff. It was a renaissance of the baby boomer's generation that established the USA as the singular world power in the later part of the 20th century because they were taught by the best hands in the country albeit due to compelling circumstance; a rose from thorns.
Nigeria is currently going through a painful squeeze in the economy with abysmal numbers from the job market. Post-2015 more young graduates from Universities and High school are ejected to a slim hiring capacity from corporate Nigeria or organized private sector. Apparently, the most fecund employer of labour is the teaching post. It is a virile public sector that is currently employing or engaging unemployed youths. The most part of the social investment programme of the Federal government called N-power, employ teachers for public primary and secondary schools and the same applies to private schools. We need fewer accidental teachers but folks who can see the vector of their future clearly and embraced teaching from an enlightened point of view; it is the most likely employer of many-why fight that reality?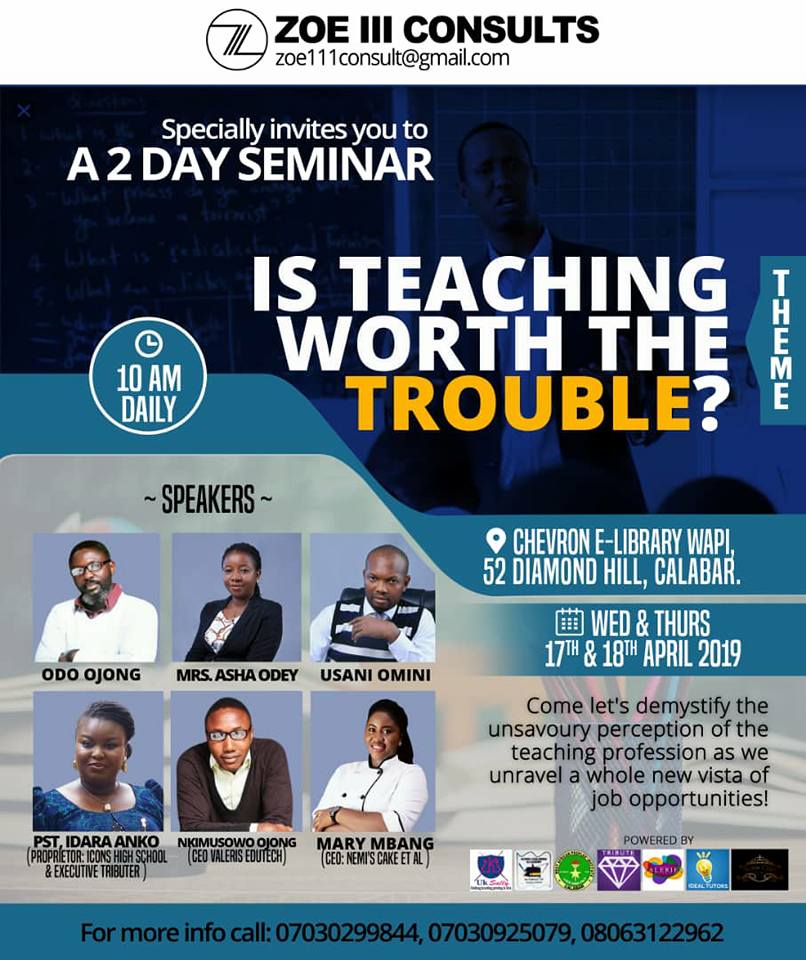 Come April 17th and 18th Zoe 3 Consult intends to test most erroneous preconceived notions about teaching and truly empower young school leavers with facts and clarity. This should aid everyone that attends to make well-informed choices to better their lot".